Haunted Fort Collins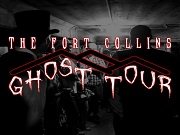 Haunted Fort Collins offers walking ghost tours around Old Town in Fort Collins. The signature tour is 1.5 hours and covers about a mile with stories of local history and paranormal activity. Versions of their signature tour are modified for a family friendly version of the tour and a late night version. They have paired with Colorado Carriage and Wagon to offer horse & buggy tours as well. It explores some haunted areas beyond the Old Town area covered by their walking tour. Lasts approximately 90 minutes.

Fort Collins Ghost Tour:
The Fort Collins Ghost Tour is offered year round. The Fort Collins Ghost Tour includes a guided evening journey into and under Old Town Fort Collins. Along the way, you will learn about about local legends, hauntings, ghostly sightings, and strange happenings. Tour stops vary between each tour.

The Late Night Ghost Walk:
Join us for a late night haunted journey through and underneath Old Town Fort Collins. Visit the site of a Civil War graveyard and walk the alleys and underground hallways that led to brothels, gambling establishments, murder and mayhem. Our tour guides will share with you the stories of the darker side of our city's past and take you to areas frequented by ghostly activity along the way. Tour stops vary between each tour.

The Ghosts & Goodies Tour:
Our Ghost Tour and our Dessert Tour combined! We take you into our favorite haunts, below-the-town sites, and talk about local legends, hauntings, strange happenings and our most recent ghostly encounters. Along the way we will sample decadent desserts, chocolate concoctions and comforting cookies. This guided tour takes about one hour and covers a half mile around and underneath Old Town Fort Collins. This is big fun for grown-ups and kids!

The Haunted Pub Tour:
Let our guides take you on a spirited journey through Old Town Fort Collins, slipping out of the dark, icy night and into the city's most notorious haunted watering holes. Alcoholic drinks are not provided; however we visit several establishments that will have drinks available for purchase while our guides share ghostly lore and the legends of Old Town Fort Collins.

The Horse & Buggy Ghost Tour:
Fort Collins Tours has partnered with Colorado Carriage & Wagon to provide you with a bone-chilling jaunt to haunted sites around Old Town. You will learn about Fort Collins' past and visit haunted sites as our tour guides tell stories along the way. While our walking tours feature sites and stories in the Old Town area, the Horse & Buggy Ghost Tour is an excellent opportunity to explore a little beyond our usual venues. Horse & Buggy Ghost Tours are offered year round and are approximately 60 minutes.

The Speakeasies & Spirits Tour of Old Town:
The Spirits & Speakeasies Tour of Old Town is a guided walking tour of Fort Collins drinking establishments exploring the legends and hauntings that span its history from a military outpost through a unique extended alcohol prohibition. Guests will have the opportunity to purchase specially priced drinks at several locations while our storytellers entertain you. Join us on a spirited journey where you may purchase drinks at your own pace and leave the path and stories to our talented raconteurs. Tours last two to three hours and visit several stops that may include breweries, distilleries, cideries, back alley taverns, raucous pubs and even underground speakeasies! Time will be allowed for beverage selection, stories, and socializing. The Speakeasies & Spirits Tour is a unique experience and great way to be introduced to Old Town Fort Collins, its distinguished taverns, and its captivating history, legends, and hauntings.

The Fort Collins Ghost Tour
Latest Reviews
There are no reviews for this listing yet!